Here are my top five picks for pop-culture Linux references. We'll start with one which is a bit obvious, but certainly has a place in my heart.

#5 – Dilbert
Well, if ever there was a mainstream comic strip that's likely to mention Linux it'd have to be Dilbert. Many a software developer and network administrator has identified themself with the hapless engineer during his exploits.

On the 24th June, 1995, Dilbert's companion, Wally, came across a portly bearded fellow of a certain age, perhaps somewhat like Santa Claus but darker and with an edge about him. The scruffy beard, the suspenders and the smug expression all combined to give him away.

Wally recognised him immediately from his appearance and affect as none other than "one of those condescending UNIX computer users" and reacts with a mixture of nervousness, awe and hostility. The UNIX man listens with a beatific calm then finally reaches into his pocket. "Here's a nickel, kid. Get yourself a better computer" he says.

Dilbert runs daily on the web and in over 2,500 newspapers worldwide in 65 different countries, in 19 languages and with over 150 million fans.

This cartoon is well established in Linux and UNIX hacker lore. It's adorned many a cubicle wall. It's appeared on the cover of such tomes as W. Richard Stevens' "Advanced Programming in the UNIX environment" which was published 10 years after the cartoon appeared but is a testament to its longevity and the memories it invokes.

This strip rightly deserves to be on this list. Due to being a bit geeky, and even predictable that Dilbert would reference the popular open source operating system, I've put it down to the fifth position. We'll get more mainstream as we progress.





#5 – Dilbert
#4 – The Mighty Avengers
#3 – The Matrix Reloaded
#2 – George W Bush and the NSA
#1 – Jurassic Park






---
#4 – The Mighty Avengers
Captain America! Thor! Iron Man! These are some of the mightiest super heroes the (Marvel) world has ever known. Oh yeah, there's Ant Man too. My wife can't take him seriously when I try to explain Henry Pym's ability to shrink and talk to ants.
The Avengers, like many golden- and silver-age comics, has returned to print with a reworked time and a grittier story to regain readers in this Internet age. In July 2007 Mighty Avengers issue 4 (of the new series) featured none other than a grub bootscreen on a PC in a missile base with all the usual Ubuntu login possibilities on screen, including memtest.
Across the screen the dreaded words "Access denied" are visible. The horrified employees of the missile base are staring at the same grub screen, soiling their pants. "What is that?" says one.
"Someone's hacked into the system. Someone's looking for the launch codes. Oh my god!"
Do Lithuanian missile bases really run Ubuntu? Maybe or maybe not, but the main message to get out of this is don't give sudo access to the wrong person! Why, they'll hack into your computer even while it's booting ... so, ok, accuracy it's not, but pop-culture it is!
Here's the relevant page. Click on it for a larger view.
Now, maybe you think comics are for kids. Or maybe like others you'll take the view that comics actually are graphic novels, and stories expressed through sequential art – a view espoused by Scott McCloud who created the comic accompanying Google's Chrome browser launch. McCloud's "
Understanding Comics
" goes into this in more depth.
Nevertheless, you've got to admit it's a pretty cool pop-culture reference even if the audience is possibly restricted to a subset of the population.
Coming up are references which I bet you'll know, no matter your age or inclinations!
#5 – Dilbert
#4 – The Mighty Avengers
#3 – The Matrix Reloaded
#2 – George W Bush and the NSA
#1 – Jurassic Park
---
#3 – The Matrix Reloaded
The Matrix is my all-time favourite movie. It was brilliant. Then the little matter of two crap sequels ruined it. Nevertheless, the writers certainly did know a thing or two.
You've all seen movies where computer hackers somehow break into a computer with ridiculous animated eye-candy scenes. Why, in Independence Day you can even upload a virus to an alien spaceship with an unplugged Macintosh laptop. Luckily they had no security on the ship's Wi-Fi network, hey?
Heck, in a superhero comic called The Mighty Avengers – maybe you've heard of it? – someone even busts into a computer while it boots up.
Yet in The Matrix Reloaded when Trinity sits down to hack, she really does hack. Faced with the problem of breaking in to the city power grid Trinity whipped out Nmap version 2.54beta25 and probed for a vulnerable SSH server. She exploited this with the SSH1 CRC32 exploit which was publicised in 2001 (although the script used, sshnuke, is fictional.) Curse the city network for being unpatched!
It's a totally plausible scenario and a genuine use of Nmap (well, that said, we all use it protect our networks, not break into others, right?) and is found in a genuine Hollywood blockbuster, despite my own views on the overall plot.
If you're interested, the commands Trinity ran were:
# nmap –v –sS –O 10.2.2.2
# sshnuke 10.2.2.2 –rootpw="Z10NQ101"
# ssh 10.2.2.2 –l root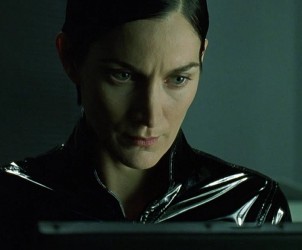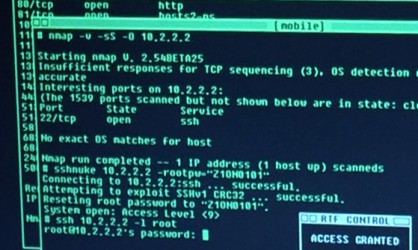 You'll also find Nmap in The Bourne Ultimatum and Die Hard 4. Woot!
#5 – Dilbert
#4 – The Mighty Avengers
#3 – The Matrix Reloaded
#2 – George W Bush and the NSA
#1 – Jurassic Park
---
#2 – George W Bush and the NSA
The NSA – the United States' National Security Agency – moves in secret circles. Do they exist? Well, that bit is pretty certain. But do they listen to your phone calls? Do they mandate backdoors into your computer? Rumours and fears abound about the powers the NSA may or may not exercise.
In fact, by even mentioning them perhaps this site is now being monitored. Assuming it wasn't already. Nevertheless, the NSA are often in the legitimate news within North America.
Back in 2006 President George W Bush said he didn't seek congressional approval for a warrantless domestic eavesdropping program for one simple reason: he didn't need it, he asserted.
This was just one of several elements in the NSA spying debate that arose when the program was revealed at the beginning of that year.
Possibly interesting stuff, but it's tangential to what I want to show you. During that controversial period the President took a super-secret tour of the super-secret NSA's super-secret hideway in not-so-secret Fort Meade.
Actually the tour may not have been all that secret because evidently a horde of media accompanied the Presidential entourage. And what's exciting is a shot of Bush along with Lt. Gen. Keith B Alexander (director of the NSA) and William Marshall (another NSA top brass.)
This picture appeared on television and in major print publications like the
Washington Post
, Newsweek and more, along with daily newspapers.
Emblazoned clearly on the wall behind them is a screen listing the latest tool versions of such open source security perennials as Ethereal, Nessus, Nmap, Cain and Abel, Metasploit, Snort and Kismet. The name, date of last release, and current version number of each is prominently displayed.
Ok, maybe the NSA are tapping your phone (or maybe not) but they're certainly tracking what's new in the world of open source security tools. And if it's good enough for the NSA, maybe it's good enough for you.
Coming up, my #1 pop-culture reference. And without a doubt you'll have seen it.
#5 – Dilbert
#4 – The Mighty Avengers
#3 – The Matrix Reloaded
#2 – George Bush and the NSA
#1 – Jurassic Park
---
#1 – Jurassic Park
Raarrghh! The killer dinosaurs are upon us. This blockbuster movie wowed the world and enjoyed a lengthy cinema season, a plethora of DVD sales, a couple of sequels, a theme ride in Universal Studios and more.
In a drama-filled sequence, Lex, Grant and Tim are trying to stay alive while keeping dinosaurs at bay and working out just what they can do to lock up Jurassic Park and get help.
Tim is trapping Raptors in walk-in fridges, Grant is firing his shotgun. Lex, on the other hand, spots a terminal and hoarsely whispers, "It's a UNIX system. I know this" and bashes away at the keyboard.
For the detail-oriented, Lex was sitting down at a Silicon Graphics workstation running a program called 3D File System Navigator which runs on top of Irix.
--> You can
see the relevant clip here
. <-- Click the link for an audio visual feast!
In one action-packed scene audiences everywhere came to realise that not only do little girls actually know some of this computing stuff after all, but we got a pertinent lesson on why you ought to reach for the command line when a hungry prehistoric beast is about to bite your head off: every second matters!
Just as the Dilbert cartoon I opened with has permeated the hearts and minds of Linux aficionados everywhere, so too has the breathy "It's a UNIX system. I know this" become the stuff of legend. You'll find it on
YTMND
, you'll find it on
IMDB's memorable quotes page
. And you can
buy it on a t-shirt
if you want.
So that's my top five list of Linux in pop culture today. Do you know others? Anything you thought really should have made the list? If you want some more check out this page full of
Linux in mainstream cartoons
too.
#5 – Dilbert
#4 – The Mighty Avengers
#3 – The Matrix Reloaded
#2 – George W Bush and the NSA
#1 – Jurassic Park