This month the theme is "
I didn't know you could do that in Linux.
"
Earlier this week
I spoke about pimping Linux to look and act like Apple's MacOS X Leopard operating system. Today and next time we'll do the same thing for Microsoft Windows, both XP and Vista.
One feature of Linux that sets it apart from other operating systems is the ease in which its graphical user interface can be replaced with something quite different. In this case, we'll work to mimic Microsoft Windows.
There are a couple of reasons you may be interested in doing this. Not least is to produce a familiar and welcoming environment for your family and friends who are hesitant about switching to Linux due to concerns about knowing how to operate it.
Of course, you ought to be concerned about precedent: if people see your Linux system sporting Windows Vista looks you might be surprised when they go buy Vista themself and it is much less stable than what you showed them!
Beginning with Windows XP, there are two separate but equally capable packages for Linux which will bring about the appearance of Microsoft's last successful desktop operating system.
One is
XPde
, whose name simply means "XP Desktop Environment, and the second is
LXP
for "Look WinXP."
Both projects state their design goals are, as we've anticipated, to make it easier for Windows XP users to use a Linux box.
Perhaps if MSI had adopted one of these they wouldn't have
experienced such a high return rate on their Linux based Wind netbooks
.
Please read on for pictorial evidence as well as the details on how to pimp your Linux setup to match.
CONTINUED
---
We'll kick off with XPde. This is an open source project developed using Borland's Kylix 3 platform. The author has implemented an XP-lookalike desktop, taskbar, window manager and start menu.
There are some dissimilarities – the Windows logo is a trademarked image and so it is not used. Instead, an "X" signifies the Start button. You can replace the graphic with the Windows logo provided you obtain it yourself. Additionally, the font used is Bitstream vera which is not Tahoma but has a similar appearance.
XPde comes with a few extra items – a Notepad, Regedit and device manager clone – although these are somewhat curious choices. XPde's audience is primarily end users (or, perhaps more specifically Linux experts setting up a Linux machine for an end user, coming from a Windows XP environment) and these people would not ordinarily use Regedit. And perhaps not even Notepad.
They're the type of people who will write a letter as a Microsoft Word document and then e-mail you the letter as an attachment with no text in the body of the e-mail, which then duly gets blocked by your anti-spam system and you never see it anyway.
Perhaps I jest, but I would tend to view the inclusion of Regedit as an intriguing nicety but certainly not the core reason for XPde's existence. As a Windows XP lookalike desktop environment down to the pixel level it performs admirably.
Check out the
screenshots of XPde in action
and below, and
download it here
. Actually, you'll notice there's no blue screen – sorry, that's one "feature" of Windows that Linux just doesn't replicate.
Let's see how LXP compares, over the page.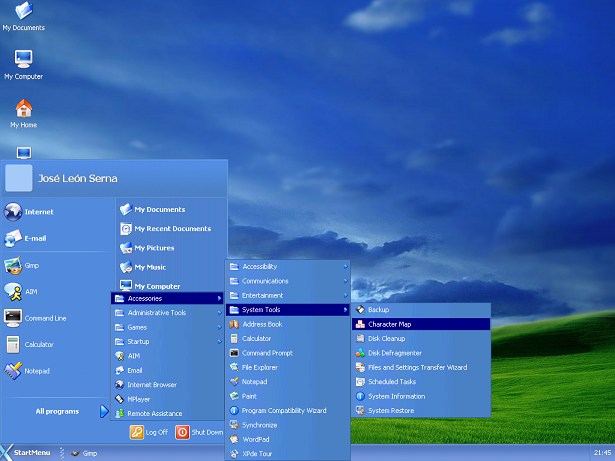 CONTINUED
---
LXP
– "Look XP" – is a SourceForge hosted app. It has been developed as a collection of different pieces of GNU software that have been customised to look and feel identical to Windows XP.
This includes the icewm window manager, xfe and idesk.
iDesk
is a system that adds desktop icons for people using minimal window managers. That is, LXP does not use GNOME or KDE but switches to a smaller, less functional window manager – icewm – and then beefs it up using idesk.
xfe
is a lean file explorer.
So that's how LXP works; check it out in action in the screenshot below.
Nicely, LXP is dead simple to install. The download page provides both Debian (.deb) and Red Hat (.rpm) packages which can be used by most Linux distros. For instance, Ubuntu users would opt for the .deb package.
If you're unsure which one is for you simply download the shell script lxp-setup. This works magic: the script will determine the appropriate package for your system and will download it from SourceForge if you haven't already done so. It can also uninstall LXP if you later decide to remove it.
LXP has an interesting history and was initially designed because the author was producing a kiosk system. He wanted the stability of Linux but the user interface of Windows XP to tear down one potential barrier that users might face.
Which way should you go? I think you would do well to check out both systems. They both have a number of compelling features. LXP has the edge on ease of installation.
Yet, neither system has been updated for a couple of years. That's not a problem – Windows XP has been out for coming up to seven years, and its successor, Windows Vista, is coming up to its second anniversary.
In fact, next time we'll round off this trilogy with a Windows Vista look. See you then!